The body, mind, and spirit are interconnected through the energy flowing throughout the body. Somatic energy healing seeks to remove the blockages in the energy flow which cause emotional imbalances.
My gift of releasing people from their energy blockages has helped free them from the bondage caused by negative and suppressed emotions that run their subconscious. I work with my divinely-guided hands and breath, to balance these energy flows and promote emotional freedom. 
Somatic energy healing can reduce stress and anxiety, helps remove tension, and may help reduce physical pain. Through somatic energy healing, you can enhance your overall well-being and be free from being controlled by your subconscious.
What Can I Expect During a Somatic Energy Healing Session?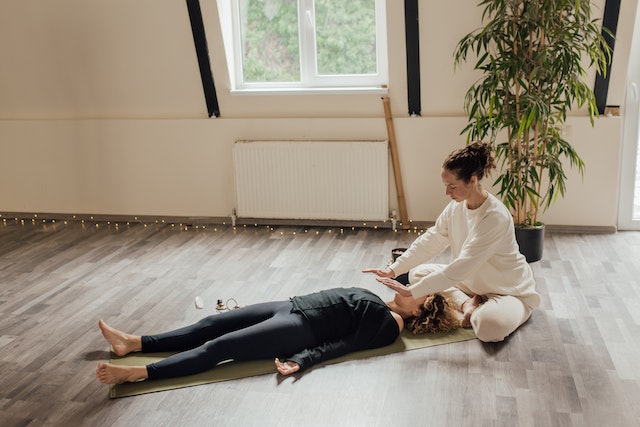 A session typically begins with 15-30 minutes of complimentary life coaching to discuss the details of your condition. Our discussion is for the sake of connecting, before we commence with your somatic energy healing session. I will be guided to the root causes of your emotional issues. Generally, people aren't aware of their own root causes, the divine source working with us knows, which also makes your session perfectly customized to you.
Emotional Issues Somatic Energy Healing Can Address
Anxiety
Addressing the root causes of anxiety is vital to somatic energy healing. Somatic energy healing can free you from the negative unresolved emotions that are contributing to apparent emotional health imbalances, such as anxiety, which will help you move forward with your life, with ease.
Trauma
A traumatic experience can hold you back from living a normal and healthy life. Somatic energy healing also addresses trauma by bringing your experiences up to the surface of your consciousness, so you can lovingly give them acknowledgment and let go of the hold they have on you. 
Stress
Stress is an issue that takes a toll on anyone if not healed. If left unabated, stress can damage our emotional and mental well-being, and eventually cause physical symptoms. Our daily activities, relationships, and self-esteem are a few factors that will be negatively affected from our stress. Through somatic energy therapy, anyone can be freed from the bondage created by stress. 
Substance
Dependency
Substance dependencies, such as smoking and drinking, may be ways for people to cope with trauma and repress or suppress emotions. Somatic energy healing can help free you from the negative emotions that drive you to seek refuge in these substances.
Relationships With Other People
Emotional health issues, such as anxiety, trauma, and stress, affect our well-being and our relationships with people around us. Somatic energy healing breaks you out of the prison created by these suppressed emotions and releases the negative energy that has kept you from creating fruitful bonds with the people around you.
I Will Free You From Your Emotional Triggers Through Energetic Transformation
My gifted ability to transmute negative energy into positivity, opened up after I embodied unconditional love. For 15 years, I have helped guide many people to free themselves from the bondage that suppressed emotions create. My divinely-guided hands can release energy blockages that cause anxiety, stress, and trauma and help free people from the bondages created by substance abuse.
To learn more about how the gift of somatic energy healing will help free you from emotional issues, text me at (310) 909-9336. I offer a free 15-minute discovery call.
Call Me
Frequently Asked Questions
Can somatic energy healing help me improve my relationship with the people around me?
admin
2023-05-25T13:43:29+00:00
Yes. Our relationships with other people may be severely affected by our triggers that are rooted in our suppressed emotions. Our emotional blockages cause us to react to others and protect ourselves, which hampers our ability to develop fruitful relationships with other people. Through somatic energy healing, I can help you break free from the control your subconscious triggers have over you.